This week we focus our spotlight on Liz Alexander, a member of both our residential and commercial teams and a licensed broker in Pennsylvania. We're so lucky to have Liz and her skill as part of the Q&W family!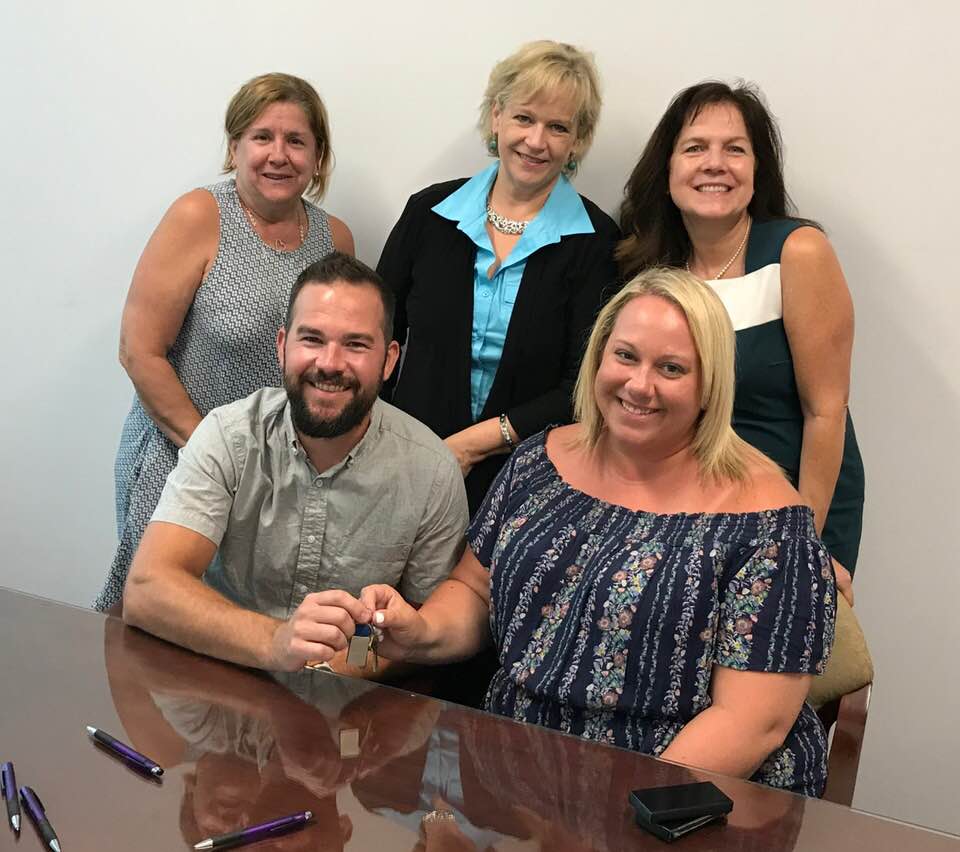 Liz (center) at the closing table
Q: OK Liz, what drew you to real estate?
L: I bought my first house in 1982. I had no idea what I was doing and I was so glad it all worked out. I got my license in 1987 so I could help people understand the entire process of purchasing their biggest investment – a home. It is extremely rewarding to guide them through this process.
Q: So why Quinn & Wilson? What drew you to the company?
L: I always admired Quinn & Wilson because they never went with a "national" brand name. Q&W is a brand all of its own and is known for its wonderful Realtors and services we offer the community. Also, most of our Agents have been with Q&W for 15 to 25 years…which is so unusual in sales! It says a lot about the great support we receive here.
Q: Switching gears, who is one celebrity (living or dead) that you would have liked to sell real estate to? Why?
L: Lucille Ball. She was such a pioneer in the comedy world for women. She was ahead of her time with being a working Mother – which was not the norm back then. My girls and I would watch the "I Love Lucy" show all the time together when they were younger. It was a show we could all watch and was very funny! Our dog is even named Lucy!

Q: What are three things people don't know about you?

L: First, most people don't know that I came from the mortgage world before real estate – it is so helpful when it comes to guiding people through the process. Second, both my husband and I come from large families; I am one of 11 and Bill is one of 13 – so when we come together it is 176 people and counting! Three…well I guess I have to admit that I'm afraid of heights.
Q: What is your favorite architectural style?
L: I love bungalows, they have such a charming appeal.
Q: Your day can't begin without what?
L: There are a few things – The day begins with me thanking God for my family, especially my two beautiful Grandbabies! I must have my coffee first thing, but I do not leave the house without making my bed. I'm sure it sounds funny but, by doing this task, I get my day off to a great start so I can tackle what lies ahead of me for the day. The coffee sure does help though!
Q: What are your favorite local activities (how do you engage with the community)?
L: I am assistant coach to the Bucks County Special Olympics Volleyball. It is very rewarding and I enjoy each moment I'm with the athletes. I love seeing them each week – always with a smile on their faces.
Q: Imagine you are stranded on a desert island…what three things do you have to have with you?
L: Let's see…I would want to have pictures of the family. Then I would want some music…and I think if I'm going to be stranded there had better be plenty of wine!

Q: What is the most-used app on your phone?
L: Hmm…right now it's the Carb Manager. I want to stay healthy so I am logging my foods everyday.
Q: What is your top tip for home buyers and sellers?
L: Use a Q&W Agent! In all seriousness, as I said before I am always amazed how much experience we have in this office – which pays off in spades during complex transactions.
Q: What would you say is the #1 misconception about real estate?
L: That people can do it alone. We make it look easy because we are experienced and know the entire process. There are many things we do "behind the scenes" to ensure a smooth settlement. Having a Realtor is a great asset to have as you are going through the real estate process as the rules are ever-changing.
Q: What is your favorite local restaurant or night out?
L: Truthfully, it's a night on my deck with family, friends and music. That's my ideal "night out"