It's Agent Spotlight Wednesday again, and this time we are highlighting one of our most valuable, most resourceful agents. Etta Norton is the glue that holds Q&W together, and we couldn't be more happy to have her on our team. Enjoy getting to know Etta a little better!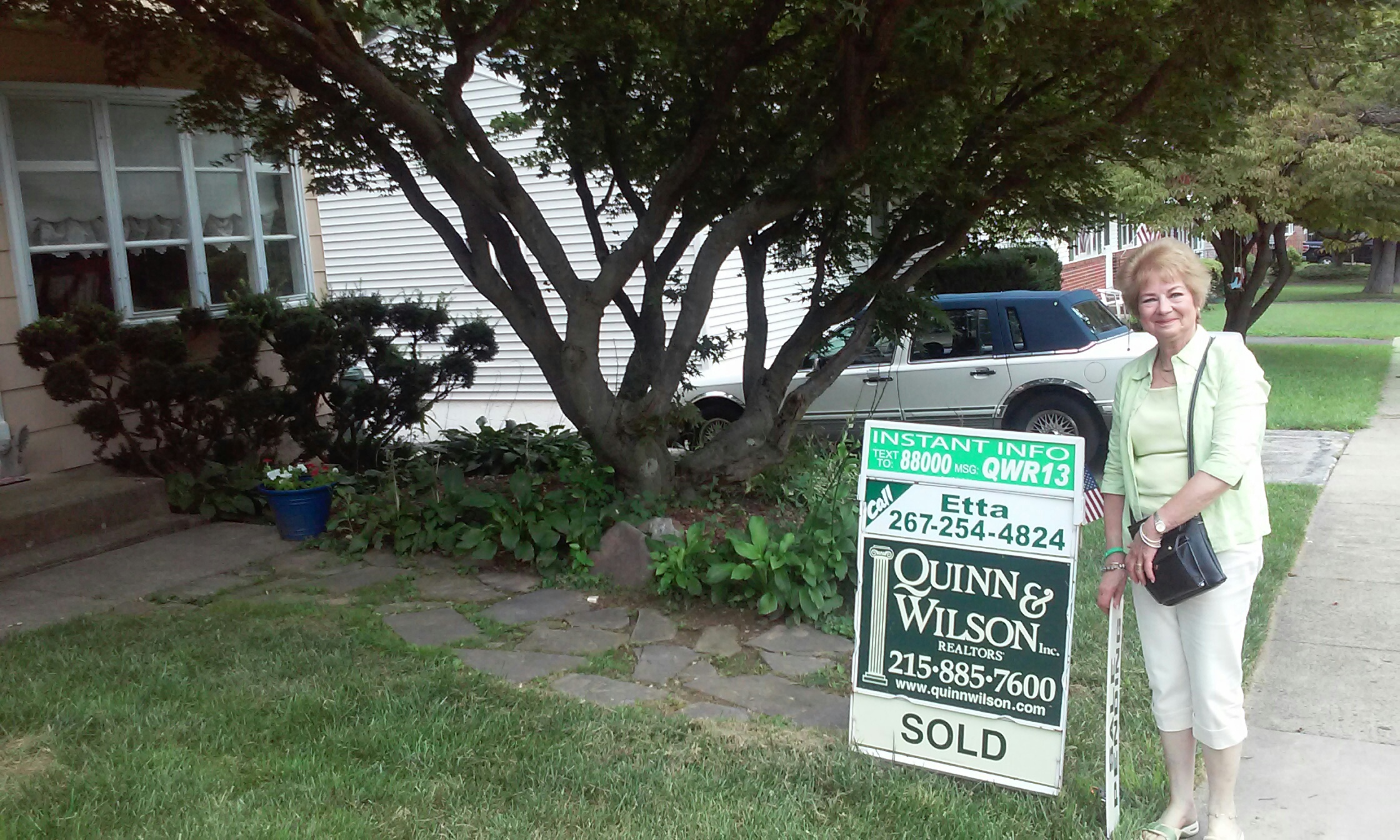 Etta with her other favorite four-letter word
Q: So Etta, what drew you to the real estate business in the first place?
E: I had always liked real estate, but had never pursued it professionally. Then I had a friend ask me to fill in as the office secretary in her real estate office – let me tell you it doesn't take long for the real estate bug to bite, and I was instantly hooked!
Q: And what drew you to Quinn & Wilson?
E: I have literally never worked for another real estate company. The office I mentioned filling in as the secretary…it was Quinn & Wilson. I can't imagine being anywhere else; the people here are extraordinary.
Q: Who is one celebrity (living or dead) that you would like to sell a home to?
E: I think it would be great to sell a home to Albert Schweitzer, just to see how his mind works in a real estate transaction. I'm pretty sure I could learn something from him.
Q: What are three things people don't know about you?
E: Surprise, surprise I'm not a natural blonde. Although at this point I think the statute of limitations on my natural color has expired. What else? I'm short. Is that something people don't know? Well, I guess if we talked on the phone they don't know that. Finally, I'm a chocoholic. That's my favorite of the three.
Q: What is your favorite architectural style?
E: I like ranchers – and there are some really terrific looking ones in our area.
Q: Your day cannot begin without?
E: Coffee. Not only at home, but in the office. I'm known for being in the office first and firing up the coffee pot right away.
Q: What are your favorite local activities (in other words how do you connect with the community)?
E: I have been a member of the Friends of the Abington Free Library for awhile now and I love working with them, and I have been a Constable at my polling place for 30 years. That's an interesting one, trust me!
Q: So Etta, if you were to get stranded on a desert island what three things would you like to bring with you?
E: I'm very practical…so first things first bring me a tent. Then a sewing kit (where I secretly hid some matches) and sunscreen. Look at that, I ended up with four!
Q: What is the most-used app on your phone?
E: I use an app called Mr. Number. It eliminates a bunch of junk calls automatically and it helps me identify calls that I do want to take – like my real estate clients!
Q: What is your top tip for home buyers or sellers?
E: Buyers, you really need to get prequalified with a mortgage lender beforehand. There is nothing worse than watching buyers get excited and then finding out the numbers they thought they had budgeted aren't the same. Sellers, de-clutter and be ready to move before your house hits the market.
Q: What is the #1 misconception about the real estate business?
E: That it is easy. Trust me, after this many years I can tell you that is not always the case.
Q: What is your favorite local restaurant or night out?
E: My favorite is Mirna's in Blue Bell. The food is always wonderful and consistent with quality and quantity every time.