This week's agent spotlight shines on someone who we often don't even know is in the office when she's there. Linda Ross is such a "put your head down and get to work" person – which is great for her clients and the people who have put their trust in her! We are so happy to have Linda and all her amazing skills on our team. Enjoy getting to know more about her life and her devotion to the things important to her.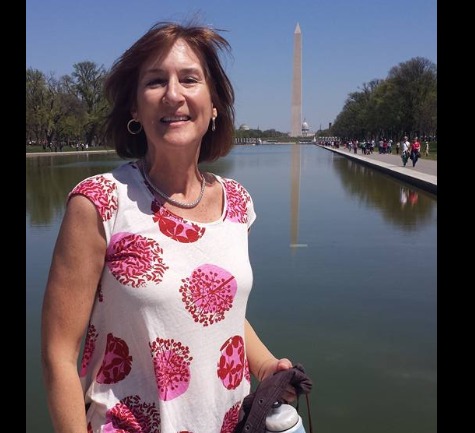 Q – OK Linda, I know this is not going the be the easiest thing to do because "talking about yourself" is not your favorite passtime, but let's see if we can coax a few things from you. Start with an easy one…what drew you to real estate as a career?
L – My first home, when I got married, was a 300 year old Trinity which we rented at the intersection of Terwood & Welsh Roads in Huntingdon Valley. A Trinity is a three room house, one room on top of the other with a winding staircase….very small and cozy. Having lived there made me appreciate different kinds of American architecture and how our area is rich with this type of history. Although I find myself mostly dealing with the usual Colonials, Ranchers and Split levels, I do enjoy the diversity of styles in our neighborhoods and helping people learn about this aspect of real estate, and what will make a house a home for them.
Q – Wow, that sounds like tight quarters! But a great story to share. So how then did you come to be at Quinn & Wilson?
L – Wow…for some of us we have been a part of this firm so long it is hard to remember back to those early days. Probably more important is why I have stayed – and that is the close-knit team feel and the neighborhood expertise. We live in the same neighborhoods we work with so our level of expertise is above anyone else.
Q – You are right about that – the team here is amazing. We are glad you stayed this long too! Changing gears a bit, tell me someone, living or deceased, you would like to sell a home to in this area.
L – I think it would have been great to work with Frank Lloyd Wright. First and foremost I would have loved to see what he could have done with some of the properties in this area, and conversely, I would really like to hear his opinion on some of the newer designs. Either instance would provide some fantastic conversation!
Q – That's a great answer. I hesitate to think what he would think of some of what passes for architecture these days. While we're on the topic of architecture, can you tell me your favorite style of home?
L – I think big, bright Contemporary homes built by interesting people are amazing. I guess that goes with my answer before. I love to see what people can dream up if given the opportunity.
Q – That's exciting. You are right that people with vision can make some extraordinary things. So, Linda…what are three things that people may not necessarily know about you?
L – Uh oh, this is the "talking about myself" portion, eh? Well first and foremost, most people don't know that I am blessed to be a cancer survivor – thank you Lord! Beyond that, I have camped with the Masai in Kenya on the Serengeti and ate roasted goat fireside…which was an amazing experience. Beyond that, most people don't know that when my kids were young I gave children's birthday parties. I have done more than 300 of them…talk about crazy times!
Q – There is so much information there we could spend plenty of time just talking about the Serengeti, but you know we are all thrilled about your cancer survival. Now that we know that part of you, let's try this – what do you need to start every day right?
L – For me it is a large glass of iced tea, even in the depths of winter. Once that is behind me there has to be some time for devotion and prayer – I feel so blessed and I want to give thanks. I also make it a point to check in on family, although that is much more of a digital activity than it was in the past.
Q – Ha, yes much of what we do nowadays is digital. Speaking of that…what is the most used app on your phone right now?
L – For me, it's WhatsApp. I love using it to communicate with my kids and my international clients. I am thrilled more and more people are using it in the United States, because overseas it is the leading messenger.
Q – Wow, not too many people in here say WhatsApp…that's a good answer! But for a second pretend you don't have your WhatsApp, because you are stranded on a desert island. What other three things would you bring?
L – OK, so if I'm unplugged (which sounds delightful by the way) I would need to have my family there. And without a doubt, a wide-brimmed hat. On top of that books and my reading glasses. I know glasses is number four, but without them there is no sense bringing the books. And can I have iced tea?
Q – Family, a hat, books and iced tea. That doesn't sound like a stranding, it sounds like Club Med! But we'll let it slide, you deserve a little vacation, especially in light of what I already know of this question. What do you do to connect with the community?
L – I am involved in my church with many different projects and service endeavors. But I love walking on the new Pennypack trail and connecting with neighbors, as well as walking or biking the forbidden trail in Fairmount Park. In both instances I connect with so many people and love hearing what they have to say.
Q – Hopefully it will warm up a bit more soon so you can get back out there. Shifting gears a bit back to real estate, tell me the one piece of advice you would give to buyers and sellers today?
L – For buyers, it is all about the prequalification. Find a reputable lender – I know one hint, hint – and find out what you can afford before you get out there. Then look at as many houses as possible before diving in. For the sellers, CLEAN OUT that house! Get it ready and price it accordingly. Yes, I know it is still a "seller's market" but buyers are still knowledgeable and want to see the amenities, not your stuff. A good agent can guide you through the steps.
Q – All sound advice. In the same vein, what do you think is the number one misconception consumers have about real estate?
L – Everyone thinks it is easy – you just go online, find a house and be done. But the process is multi-layered and there are some complications. Take advantage of someone with knowledge and experience – it is a valuable tool.
Q – That is a great answer. OK Linda, you survived…but there is one more question. So you have come back from your desert island, you're through the trials and tribulations of real estate and you have a free night – where are you heading for the ideal night out?
L – Marzano's in Jenkintown! BYOB with their grilled seafood salad…YUM!