Snow last week brought the agent spotlight streak to a halt, but we're back at it today and ready to shine the light on one of Quinn & Wilson's great agents. When it comes to running, Kathy is far ahead of this pack…and when it comes to representing buyers and sellers she is running at gold-medal pace. Thank you Kathy for all you bring to Q&W, we love having you run with us!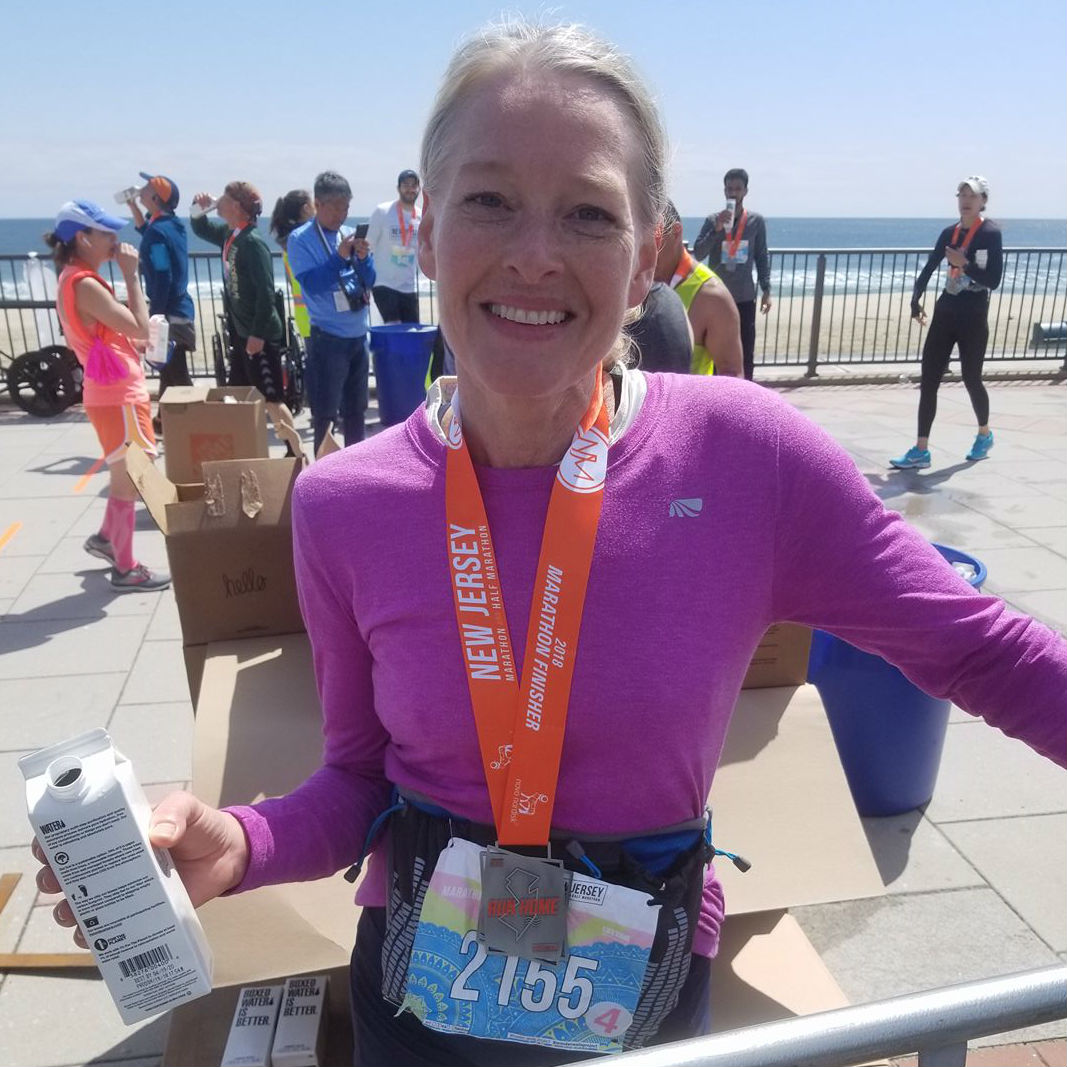 Kathy at the end of another marathon

Q – OK Kathy, thanks for taking a few minutes to share your story with everyone. I know you're busy these days with work and with family. Let's start with an easy one; what drew you to real estate?
K – Honestly what initially drew me to real estate was the flexibility it allowed me as I was raising my family. But what has kept me in real estate all these years is the opportunity to really get to know people in a way that I wouldn't otherwise. And to help them with the process of buying or selling their home which is both really exciting and often stressful. Sometimes I'm working with someone I've never met before, and sometimes they are friends or acquaintances. Either way we are walking through a major life event together, and in that time you can't help but gain a greater understanding of each other. It's a privilege to be part of such an exciting time in their lives. I like being able to help people work through the process and to see the successful transaction completed.
Q – That's a great way to look at things. Thanks. So what drew you to Quinn & Wilson?
K – The people at Quinn & Wilson are what drew me there. Everyone is extremely professional and we all work as a team and are happy for each other's success. You can't help but be challenged to a greater level of professionalism when you are surrounded by co-workers for whom this is a priority. We all strive for excellence and work hard to represent our clients in a way that is always in their best interest.
Q – So true. Now if everyone was going to be happy for your success selling to someone famous, who would it be?
K – I would like to sell to Bradley Cooper. I just heard an interview with him, and with all his success and fame he still seems down to earth with priorities in order. He talked about how much growing up in Philadelphia (and specifically Jenkintown) impacted him and shaped his outlook. He knows and loves Philadelphia. And he talked about buying in the area at some point! So Bradley when you're ready, I'm there for you!
Q – After that appearance on the Academy Awards this week I have a feeling there are quite a few people ready to help him out. So what are three things people don't already know about Kathy Dirksen?
K – First, my favorite snack is Lay's plain kettle chips and Cracker Barrel Vermont sharp cheddar cheese, the pre-sliced kind…together. Second, I do not have any balance. Imagine how that goes over in Yoga class! Finally, my goal is to run all six of the major world marathons.
Q – Wow, that's Tokoyo, Boston, Chicago, London, Berlin and New York, right? An awesome goal to have. We're all rooting for you here, you know that. A different sort of question – what is your favorite architectural style?
K – It has changed over the years. In the past I would have said a Colonial or Victorian. But now I like a bungalow. They are charming and have a lot of character, usually a big front porch and most of the living is done on the main floor.
Q – This business provides us a great chance to change our mind as we see more great homes. When you think of your day, what is it that you must have to get things started right?
K – Coffee and a run! I can't get enough of either.
Q – I'm with you on one of them. I'll let you pick which one. What are your favorite local activities? In other words, how do you get out and interact with your community and neighbors?
L – We're hooked on Quizzo, and have found that going to Quizzo events on Wednesday night is a great way to meet people. We also like to catch up with people at the Glenside Ale House.
Q – There's an answer we can get behind. On another note – if you were stranded on a desert island and could only take three things with you, what would they be?
K – I'm going to go with a beach chair, a snorkel set and a cocktail.
Q – That sounds perfect. We don't want you getting stranded, but if you do let's hope it goes that way. Assuming you're not stranded, however, and you have your phone, what would you say is your favorite app?
K – Google Maps. Not sure how we all did life without.
Q – Agreed. Do you have any advice for first time buyers or seller?
K – For a buyer, be ready. Get a pre-approval so you have a good understanding of what you can afford, what price-range you should be considering, and so that when the right house comes along you can be ready to put an offer in.
For a seller, don't overprice. Often people want to price higher than market value because they are afraid of not getting top dollar for their property or they aren't realistic about what their house is worth. They don't realize it's a detriment to overprice. If the house doesn't sell right away, it could end up going for less than market value, because no one wants to pay full price for a house that is not selling. The house will ultimately need to be reduced and buyers will offer a lower price because the house has gotten "stale." In addition, the seller should factor in the cost of additional of mortgage payments and taxes for the month(s) the house is sitting on the market as a result of overpricing. If you price correctly, in this market especially, you will be more likely to get an offer quickly and possibly multiple bids which will drive the price up.
Q – That's great advice, thanks. What do you think is one misconception have about real estate?
K – That there is ever a bad time to buy or sell.
Q – Finally Kathy, what is your favorite night out?
K – I like the Lucky Well in Ambler. It is great to go there for a drink or dinner before or after a movie at the Ambler Theatre. I also love Marzano's in Jenkintown. It's a BYO and the food is great. Especially love the Parmegiana Mellanzano Flatbread. And the Hiway movie theatre is a block away.