This week's agent spotlight finishes our look at the Malnati-Meister team (you can see Diane Malnati's spotlight by clicking here). Renee is one of our "Do it all" agents, who seems to be constantly on-the-go and running circles around every situation for her clients, her family and our team here at Quinn & Wilson. Thanks, Renee for everything you do!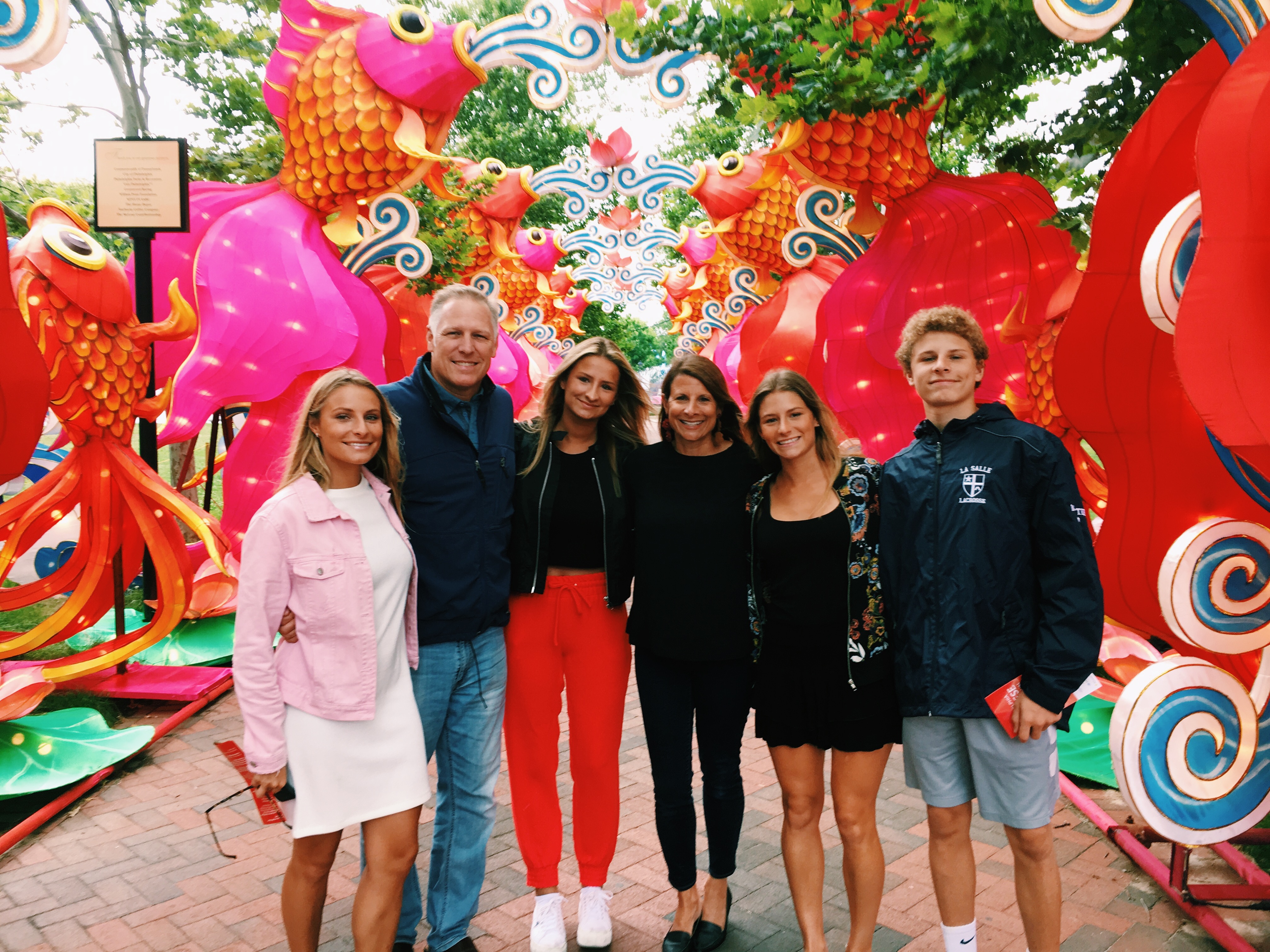 It's a family affair for Renee (center) with Lexi, Craig, Kaitlyn and Lizzie and Ricky at the Chinese Lantern Festival in Philly.
Q – So Renee, what drew you to real estate?
R – Beyond getting to work with my awesome mom on a daily basis? Truthfully it was the ideal career to combine my experience in marketing and sales, my corporate background in training and the excitement of working with people.
Q – Well, we think you picked the right career. Since we know why you picked Quinn & Wilson (thanks Diane!) how about you tell us why you think others should come here?
R – It's the best place to learn this business and grow your business. We not only have tons of experienced agents here, but the company is expanding with technology and innovative marketing methods to help us even more.
Q – Well, we certainly hope you are here for years to come. Renee, who is one celebrity you would like to sell a home to?
R – That's easy – Bryce Harper. Not only did he just make a commitment to be in town for a long time, but he and his wife seem like really nice people who I would like to help find that perfect community.
Q – I think his budget just expanded too…Montgomery County would be a great place to live. What three things do people not know about Renee?
R – Let's see. Did you know I taught Fourth Grade for one year? It was an interesting experience. I was also an elite gymnast when I was younger – although what I really wanted was to be a professional football player because my dad played football. That's two things people don't know mixed together.
Q – Well if Lynn Swann can be a ballet dancer and a wide receiver I think there should be room for you! But I digress. Thinking more about real estate, what do you consider to be your favorite architectural style?
R – I have always loved the big, old Colonials. They have so much character and history. Sometimes as I drive around the area I take certain roads just to check them out.
Q – Well, there are tons of them all around Abington so you're fortunate. Good choice. Renee, what is the one thing you can't start your day without?
R – A hug from my kids. Trust me, this one gets harder now that some of them are out exploring the world, but even the ones in Miami or New York I try to hug by phone.
Q – That's awesome. What do you do here at home to connect with the community?
R – I am part of the parents' council at my kids schools. One of my fun activities is that I am on the Huntingdon Valley Garden Club and I get to judge children's flower shows at the local schools. I also coach lacrosse and I have been involved with Face to Face in Germantown. For me, the best times are when I can connect with kids.
Q – So there is a little of that fourth grade teacher in you still? Imagine, however, if you were stranded on a desert island…what three things would you want to have with you?
R – My family, my dog, and a LOT of chocolate. I don't sit still well so if I am going to be stuck I had better have some distractions.
Q – Good point. That island would have a rut in it from you running around everywhere! Assuming you get back to civilization again, what is the app you use the most on your smartphone?
R – I'm all about Waze. It's the best direction-finder out there and it gives great insight about the area too.
Q – Smart choice. How about advice for buyers & sellers – what would you tell them?
R – These may sound simple, but so many people forget them. If you're selling, start de-cluttering far ahead of time. The last few days before you go on the market are so hectic the last thing you want to worry about is stashing things away. For buyers, get pre-approved for a mortgage, it makes it so much easier when you know what your price range truly is.
Q – I have a feeling you have been giving that advice a lot lately. What would you say is the number one misconception that people have about real estate?
R – So many people think that once you find someone to buy the home and have an agreement that things are simple from that point forward. Nothing could be further from the truth. The inspection process, the deposits, the appraisal, the closing documents, the closing itself…there is a ton of work that has to be one once your house is "sold".

Q – That's a good one. We all focus on the contract but forget how much work there is after that. OK, Renee…final question. Assuming things calm down and you get a free evening, what is your favorite night out in the area?
R – OK, taking this one a little different direction. We love breakfast in our house, and we have an awesome time when we go to Bonnet Lane. If you really want a night out, though, you can't go wrong with Italian! We love Marzano's or Rivera